Pendler-Check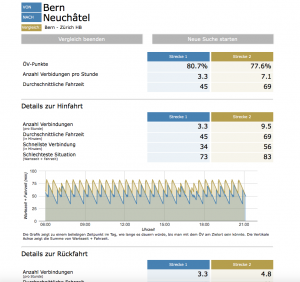 The Pendler-Check is capable of comparing two routes (e.g. Bern-Zürich and Zürich-St.Gallen) and giving a clear advice which home location is better for commuting to work. The analysis is done based on real connection information from SBB on a randomly selected workday (from 06:00 to 22:00).
A major new feature that I implemented for the Timetable Change on December 15 was the ability to compare connections before and after the change.
The demo on demo is no longer available.
Data
transport.opendata.ch for checking location names and getting connection data

SBB XML Interface as backup option
Team
Links
Built with Ruby on Rails and several extensions

Charts created with Google Chart API