From "genes" to "phenotype": linking organism names in NCBI to their taxonomic descriptions in the biodiversity literatue
Issue
Organisms (taxa in taxonomic language) in NCBI implicitly relate to a currently accepted name in the taxonomic world, where those taxa have been established in a scientific article. However, many of those taxa have been undergoing a change in their naming history which involves often many variants, from synonyms, the original combination, to misidentifications. Synonymic lists are contained in nomenclators (name services). They allow two essential services: to find out for any given name what the currently accepted name is, and, relevant in this context, the links to the taxonomic treatment via the bibliographic citation, or more recently a persistent idnentifier. This allows to retrieve all the content published on any of the names, and thus to have at once all the published information available. The inclusion of synonyms thus allows to expand the amount of linked data for any of the taxa in NCBI.
Use case
Anochetus grandidieri (Ant from Madagascar)
NCBI Taxonomy
ID: 269309
Other names:
synonym: Anochetus sp. BLF m2
synonym: Anochetus madecassus
synonym: Anochetus grandidieri Forel, 1891
Taxonomy Name server
for ants: Hymenoptera Name Server
ID 25263
alternative names or this taxon (synonyms, misspellings, misidentification) can be found by expanding the "literature" section on the page above.
Worflow
Solution
A link from NCBI will find all the synonyms of the names in NCBI used for this organism (list of synonym provided by NCBI), which then will be run against nomenclatures on the biodiversity world, and then submitted to Plazi where a summary page with all the taxonomic treatments will be displayed.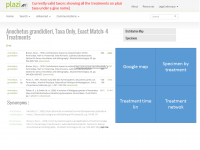 The data will be available as html, XML and RDF (the example are here for single taxonomic treatments)
The project will be continued and hopefully tested and implemented via the NCBI link out option.
Follow up
On June 26, this project has been implemented and provides the descriped linkout from NCBI: the above example Anochetus grandidieri as well as all the 15764 Binominals (Scientific Latin Names) that Plazi shares with NCBI taxonomy
Links
Team
Terry Catapano, Plazi

Mara Hellstern

Philipp Kuntschik, HTW Chur

Guido Sautter, Plazi

Elena Mastrandrea, HTW Chur